Huffington Post – Graffito Works Launches in Philadelphia
by Lew Whittington
A dozen of Philadelphia's most accomplished and experimental dance artists have joined Graffito Works; a new company formed by New York-Philly based artistic director Steven Weisz and is his most ambitious dance project yet.
Graffito Works launched this month at Grounds For Sculpture gallery in Hamilton, NJ and at the Japanese Gardens in Fairmount Park in Philadelphia. After the debut at the gallery Weisz, talked about his dancers and the international dance project behind it.
The word Graffito literally means 'little scribbles' and the company will perform improvisational dance and music at carefully chosen venues.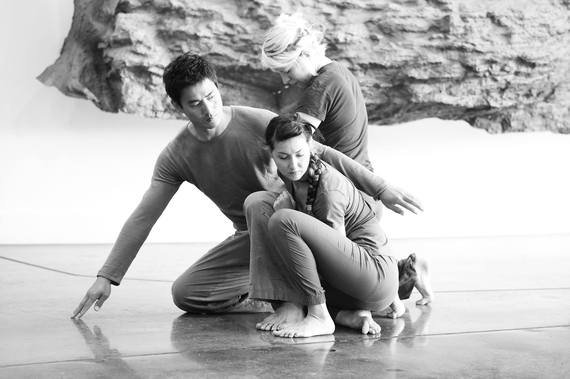 @photos by Bill Hebert; sculptures by Robert Lobe: In The Forest of Drawn Metal
All taken at Grounds For Sculpture
" For me improvisational dance has always been something magical. A fleeting moment in time, what's created is unique in that moment and never seen again," Weisz explained after the debut performance at Grounds for Sculpture. "How the dancers interact, that give and take, the collaborative spontaneity, is thrilling. "
"Most dancers will tell you they have experience with improvisation. I was looking to find dancers who specialized in it as a vital area of contemporary dance. So the field narrowed very quicker. So each of the 'movers', as I prefer to call them, have their own companies, their own projects and are traveling around the world doing various dance projects."
Weisz has tracked some the re-emerging trends in improvisational dance in Europe, touring his previous company there two years ago. "I decided to create something similar in Philadelphia, but with an international aspect to it."
Younger choreographers are using the techniques and methods of dance improv even with ballet companies as a way to bring something more energized and organic to their work.
Many of the dancers have been at the forefront of the independent dance companies and collaborators in Philadelphia dance community for many years. "We discuss the concept for a particular venue or event. Rehearsals are minimal," the concept is similar to seasoned jazz musicians who get together and just play. The magic is in the creative moment and movement.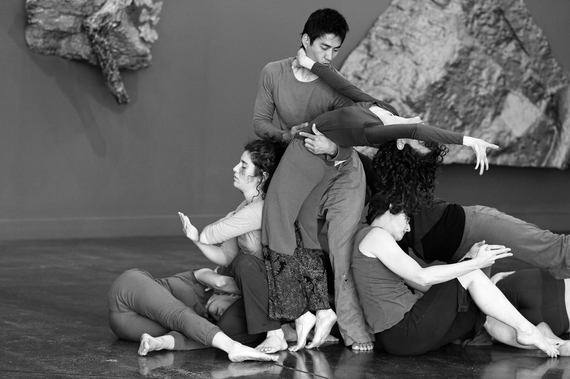 Graffito Works' roster of PHILADELPHIA MOVERS are Asimina Chremos, Lee Fogel, Meg Foley – Loren Groenendaal,  Beau Hancock,  Adam Kerbel, JungWoong Kim, Julius Masri,  Megan Mazarick,   Marion Ramirez,  Jenny Sawyer  and  Zornitsa Stoyanova .
Composer- musician Julius Masri will also be also be creating the music during the performances. "You can't just walk into a place and let it be a free for all. One of the performers becomes a project director for each venue or site, to create the framework of what we are doing." Weisz' emphasized is an across the board collaborative venture in which he encourages dancer-choreographers "to create within that Graffito framework."
Graffito Works will have satellite companies debuting in Italy and Toronto later this year and in Brazil in 2016. In each locale, Weisz will collaborate with dancers from those countries working in improvisational performance.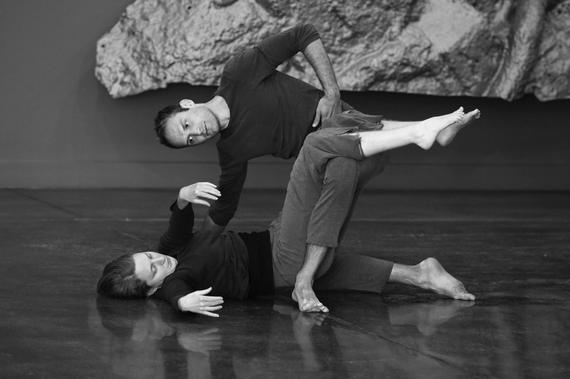 "There is a freedom in what they do, a childlike liberation" Part of the risk of improv, Weisz acknowledges "Sometimes it clicks, but part of any performance is knowing that sometimes it doesn't gel. At their level, it's never bad, but sometimes things don't come completely together. What's fascinating to me is the way these movers dissect afterward what transpired and take that to the next level."
Weisz wanted to build a new company model going forward. Graffito Works runs per project by finding funders and a venue for collaboration such as a public garden, park or museum "so we can attract diverse audiences," weisz explains, " Particularly in Philadelphia, arts funding has dried up. .. I looked for another way to develop funding without going through grants," weisz said.
The new company is just one of a handful of enterprises weisz runs which include being founder/editor of http://PhiladelphiaDance.org he also runs an entertainment event company and internet company, is an adjunct professor. "It all fits together. Who needs sleep," weisz jokes as he downs the rest of his cappuccino and dashes off.
Graffito Works performs in Shofuso Japanese House and Garden in Philadelphia June 14 and upcoming performances at Grounds for Sculpture and The James Mitchener Art Museum.